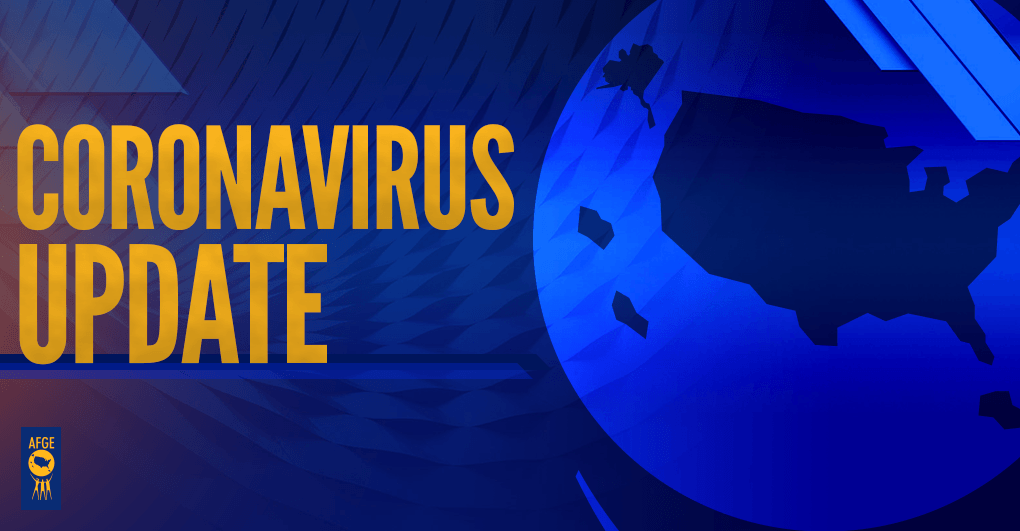 AFGE expects to negotiate over resulting changes to working conditions
WASHINGTON – American Federation of Government Employees National President Everett Kelley today issued the following statement:
"We expect that the particulars of any changes to working conditions, including those related to COVID-19 vaccines and associated protocols, be properly negotiated with our bargaining units prior to implementation.
"Based on today's announcement, it is our understanding that under President Biden's proposal the vast majority of federal employees would not have to be vaccinated as a condition of employment, but that those who choose not to receive the vaccine may face certain restrictions.
"While we await specific proposals and anticipate the negotiation process, we encourage all of our members who are able to take advantage of the opportunity to get vaccinated and help our nation put an end to this deadly pandemic."
###
The American Federation of Government Employees (AFGE) is the largest federal employee union, representing 700,000 workers in the federal government and the government of the District of Columbia.
For the latest AFGE news and information, visit the AFGE Media Center.
Follow us on:




Photos from AFGE Local 1658's post

Union Event at Jimmy John's Ball Field - Our first IN-PERSON outing since 2019!

9 Likes

Timeline Photos The Army is hosting a COVID-19 Town Hall, Monday 22 February 2021, from 0945 - 1100 hours EDT, on the U.S. Army Facebook page. The town hall is designed to give Soldiers, Army Civilians, Family members and contractors an opportunity ...

1 Likes

#ProudtobeAFGE

14 Likes

Biden Removes All 10 Members of Anti-Worker Federal Service Impasses Panel

FSIP has been used by the Trump administration to impose anti-worker, union-busting agency contract proposals on federal workers. AFGE had called on the Biden administration to remove FSIP members and appoint new ones.

5 Likes

Biden Demands Resignations from Impasses Panel

Chairman Carter was fairer to us than most but He still imposed the Anti Union Executive Orders on us...

6 Likes

Largest Federal Employee Union Applauds Reintroduction of FAIR Act

This is my response when people claim Unions do NOTHING for Bargaining Unit Employees!

6 Likes

Unions Defend UNIONS DEFEND OUR VALUES. UNIONS DEFEND OUR VOTES. UNIONS DEFEND OUR DEMOCRACY.
Unions fight every day to champion democracy in the workplace. We know securing the freedom to join together and negotiate for a fair return on our work means ...

2 Likes

LABOR 2020: SAFE CANVASS TURNING OUT THE UNION VOTE
https://afge1658.org/wp-content/uploads/2020/10/WalkFlier-Final4.pdf?fbclid=IwAR1lg9S2xmfoDJQbdBgDUy1PbgAMVVnVW0_M-Io5rZpTYmg5uZ-X6Eh2hlk
UAW Region 1A Hall
9650 Telegraph Rd
Taylor, MI 48180
UAW Vote Center
15140 Livernois Ave
Detroit, MI 48238
UAW Region 1 Hall
27800 George Merrelli Dr
Warren, MI 48092
...

Vote Labor 2020

Add your name to say you'll vote for candidates backed by the Michigan labor movement in 2020!

1 Comments

Joe Mleczko TRUMP 2020 🇺🇸🇺🇸🇺🇸

1 Likes

afge1658.org Hi Fellow AFGE members,
Joe Biden has said that, "I will be the strongest union president you have ever had." We'll need a friend like that in the White House to advocate for federal pay raises, our pensions, and more.
...

1 Likes

Trump's historic assault on the civil service was four years in the making DO NOT READ THIS ON AN AGENCY COMPUTER OR ON DUTY TIME. ONLY READ WHEN YOU ARE OFF DUTY.
AFGE Members please read the following Washington Post article. It outlines the meat of the most recent Executive Order from the ...

1 Comments

Joe Mleczko TRUMP 2020!!!Mary DeSmet Seriously?Terri Moonis Blackburn Mary DeSmet troll?
AX Social Stream: There is no feed data to display!